Lecture & Clinical Demonstration on Ceramic Veneers
By Dr.Arun Nayyar
7th Dec.2003, Sunday at India Habitat center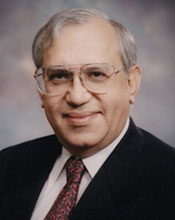 ---
Introduction of Speaker
Brief Curriculum Vitae: Arun Nayyar DMD, MS
Arun Nayyar, DMD, MS, maintains a referral based Fixed Restorative practice in Atlanta. He is also Adjunct Principal Research Scientist at the Georgia Institute of Technology's Center for Dental Technology. He has also served on Faculty and as Director of Fixed Prosthodontics at the School of Dentistry, Medical College of Georgia, Augusta, Georgia.
He received his BDS degree from University of Calcutta, his DMD degree from the School of Dentistry Augusta, Georgia and in 1971 his Master of Science Degree and a Certificate in Fixed Prosthodontics from the University of Iowa. He is a member of the American Dental Association, American Academy of Crown and Bridge and other professional organizations. Dr Nayyar has made over 250 CE presentations around the world. He is a regularly invited speaker at national and international meetings, including the 95,96,97, & 98 ADA , as well as the Hinman, Yankee, Chicago Midwinter, Academy of Operative Dentistry, Academy of Cosmetic Dentistry, World Prosthodontics Congress, The Royal College of Surgeons - London, - to list a few. He is recognized as a Distinguished Speaker by the FDI.
Dr. Nayyar has published numerous research and clinical papers and is a contributor to three books. He has completed research in the area of impression materials, provisional restorations, inter occlusal records, restorative management of endodontically treated teeth. He is recognized world wide for his work in the area of restoring non-vital posterior teeth as well as information on Hi-tech Technology in Dentistry.
Dr Nayyar has served as a member of the Editorial Review Board of the Journal Of Prosthetic Dentistry and the ADA National Board Test Construction Committee. He is an ADA Video Clinician, and a contributor to the AGD CE tape series. He is the recipient of the Oral Discoveries and Inventions Award from the Georgia Dental Association. Dr. Nayyar is the designer of a landmark program on New Dental Technologies in Dentistry

Phone: (O) 404-256-2400
Fax: 404-256-3330
Cell: 404-247-5970
Email: anayyar_anovi@yahoo.com
Mail: Arun Nayyar DMD
Suite 110, Prado East
5600 Roswell Road
Atlanta 30342, USA

Program
A clinical presentation on
New technics, materials and concepts for everyday esthetic dentistry
Arun Nayyar DMD, MS; Atlanta Georgia
This clinical presentation is a rare opportunity for dentists to observe and learn new clinical procedure and materials from one of the leading clinicians in the world. Dr Nayyar beings to us information from his private practice in Atlanta Georgia, USA and will demonstrate, share and discuss details of how he manages clinical situations. The clinic will be projected on a large screen.
Practical demonstrations on a series of patients will be shown with emphasis on private practice and clinical efficiency. Each clinical demonstration has been carefully selected by Academy members. Products from leading manufacturers will give you an opportunity to evaluate, consult and make selections appropriate for your practice.
Attendance is limited to 75 dentists.

At the termination of this workshop, each dentist will be able to
Make a perfect impression without packing a gingival retraction cord

Manage tissue bleeding

Prepare teeth for Veneers, anterior and posterior crowns

Cement 6 porcelain veneers in a short time

Use resin cements for All-ceramic restorations

Improve enamel margin fit with newly designed tooth preparation instruments

Complete an efficient, chairside -step by step smile analysis using flowable composite

Make fast and simple provisional restorations for single and multiple teeth

Use a labial and an incisal index for communicating incisal and labial edge for esthetics
Venue & Date

7th Dec. 2003, Sunday
India Habitat Centre
Lodhi Road, New Delhi

Registration 8.45 am
Lecture and Demo 9.15am to 5 pm.


Registraton details

Upto 30th Nov.
Members Rs.1000/, Non Members Rs. 1200./

After 30th Nov.

Member 1200/, Non member Rs. 1500/
Send your cheques to Dr.Rajive K Chugh, Secretary General,
C-197, Greater Kailash Part -1, New Delhi-110048.
Ph. 26463119, 26452974